Best of: Top Five Films of 2021
I'd say 2021 was a pretty solid year for film, so good you'd almost forget we are still in the midst of a global pandemic.
WRAPPEDFILMMOLLY KUSILKA
I'd say 2021 was a pretty solid year for film, so good you'd almost forget we are still in the midst of a global pandemic. With so many films that were put on hold finally able to hit cinemas, we were flooded with options, some bad, and some truly great!
Before I dive into my top 5, I'd like to list some honorable mentions:
Shiva Baby (dir. Emma Seligman), The Lost Daughter (dir. Maggie Gyllenhaal), Spencer (dir. Pablo Larraín), Saint Maud (dir. Rose Glass), The Green Knight (dir. David Lowery), Dune (dir. Denis Villeneuve)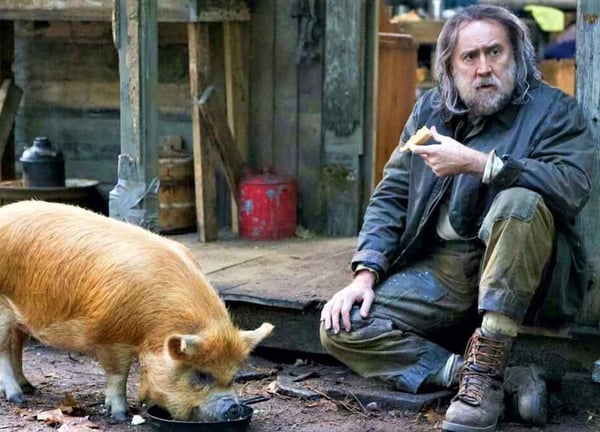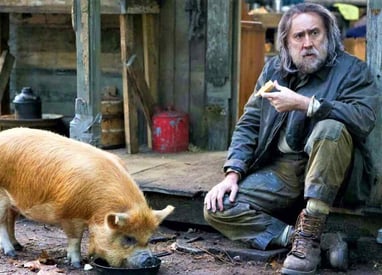 Nicolas Cage in "Pig" (Hulu)
5. Pig (dir. Michael Sarnoski)
Pig was probably the biggest surprise of the year for me. I went to see this film because there was nothing else playing at my local Regal and emerged from the theater with puffy post-cry eyes. Pig is a tender and heartbreaking story about the bond between human and animal, and the healing power of an animal's love in the wake of unspeakable grief. The relationship between human and animal is something we don't often see explored on screen with the level of compassion and stylistic flair it's depicted with here. The cinematography makes the Oregon wilderness look ethereal, and Cage delivers an astounding performance that was both parts captivating and devastating.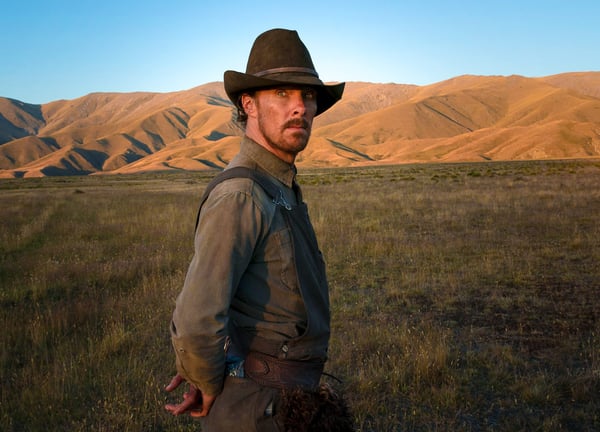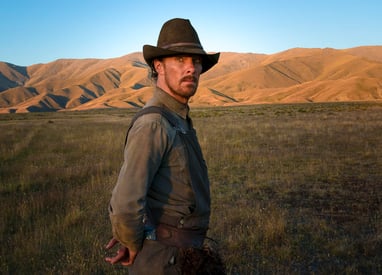 Benedict Cumberbatch in "The Power of the Dog" (Netflix)
4. The Power of the Dog (dir. Jane Campion)
The power of a twist ending! This film is a masterclass in the execution of a plot twist. It's a stirring meditation on toxic masculinity and how it manifests itself in the mind of an evil cowboy, played to perfection by Benedict Cumberbatch. It forces you to pay attention with a steady and slow-burning pace, and the pay-off is worth it. Jane Campion's direction is masterful; she subtly builds suspense and lays the groundwork for what is an unbelievably satisfying and unexpected conclusion. It's the kind of film you want to rewatch to see all the clues and hints you might've missed. Endued with rich subtext and nuanced in its examination of gender and sexuality, this was one of the year's best.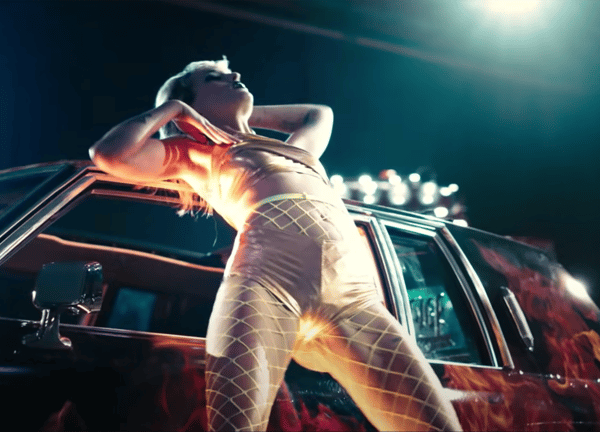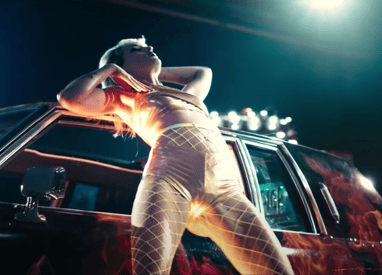 Agathe Rousselle in "Titane" (Apple TV)
3. Titane (dir. Julia Ducournau)
Titane is a twisted, surreal, brutal journey from start to finish, with a poignant message about unconditional love beneath the madness. I went into this film knowing it would probably be my jam, and Julia Ducournau did not disappoint. It's best to go into it knowing as little as possible, surrendering yourself to the absurdity and letting the story reveal itself as it goes. The usage of gruesome body horror with touches of romance, comedy, and moments of pure tenderness, is a balancing act Ducourneau executes with ease. Fearless in her storytelling and her approach to horror, she conjures up a nightmarish, gruesome thrill-ride that reveals itself to be something sweet and magnificent.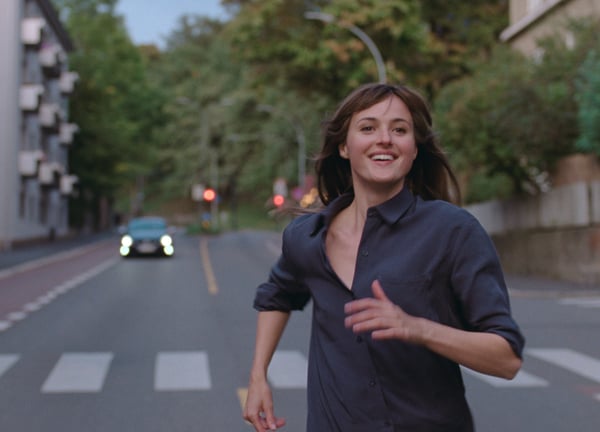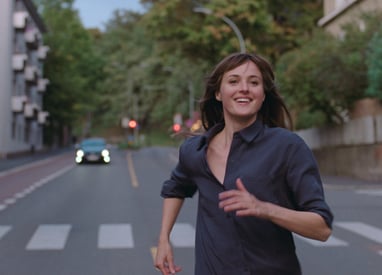 Renate Reinsve in "Worst Person in the World" (TBD)
2. The Worst Person in the World (dir. Joachim Trier)
There is a reason everyone is obsessed with this film right now, including myself. The Worst Person in the World is nothing short of an epic - it's a vast exploration of self, specifically what it means to be a woman turning 30 who's facing a multitude of existential questions. Joachim Trier treats the struggles of adult womanhood with the grandiose scope and nuance it deserves. The protagonist is in an extremely relatable quarter life crisis of sorts - navigating what she really wants, questioning her career, her relationship, and whether she wants children. These struggles are treated with a level of intensity and passion that feels both revelatory and deeply personal. I left the theater experience knowing I just saw something special, a work that would become an instant classic, studied and cherished for years to come.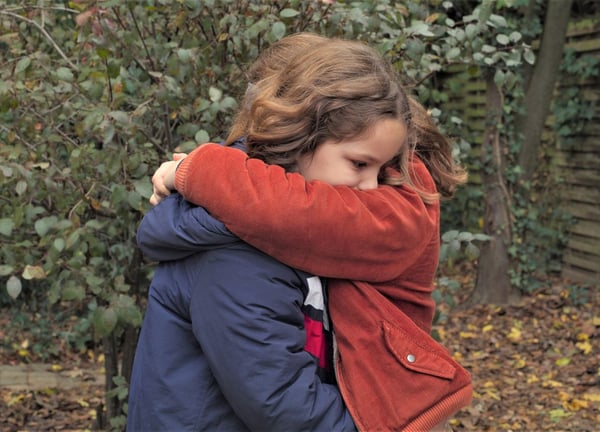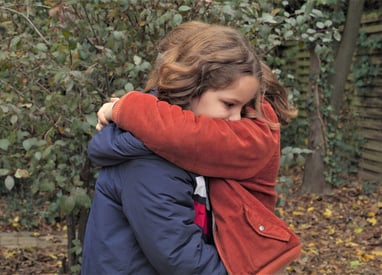 Joséphine Sanz and Gabrielle Sanz in "Petite Maman" (TBD)
1. Petite Maman (dir. Céline Sciamma)
Céline Sciamma has cemented herself as one of my favorite directors with this masterpiece. Every now and then, I have a theater experience that is nothing short of magical, in which a film transcends the screen and moves my soul so deeply that I end up crying through a good portion of the runtime, purely out of sheer awe and adoration. This year, Petite Maman was that film for me. An absolute breeze of a runtime at 72 minutes, it was beyond refreshing to see a film that doesn't overstay its welcome in the midst of a landscape full of overly long 2+ hour movies. A masterclass in the use of magical realism, this film gently and compassionately examines what it means to begin seeing your parent as a complex, flawed human being by exploring the question of what it would be like to meet our parents at the age we are now. In this case, an 8 year old girl meets her mother when she was the same age, allowing for the most magical and moving exploration of the mother-daughter relationship.