Minx: On Looking, Power and Women
Not since The Deuce have we seen so many penises on-screen, impeccable chemistry or just a comedy with so much to say. Minx premieres as one of the best comedies to watch in the Spring.
TELEVISIONWOMAN-CENTEREDHBO MAXMALE-NUDITYAGUSTIN NOGUERA VILLEGAS
If you've been anywhere near social media this year, then you've probably heard of the controversy regarding HBO's Euphoria, specifically its actresses and on-screen nudity. The issue became extremely apparent as the second season of Euphoria premiered earlier this year, and many people noticed that the actresses were disproportionately nude on screen for longer periods of time when compared to their male counterparts. HBO is a cable network that doesn't answer to advertisers and has the power to showcase as many penises as they do breasts, and in the past, with shows like OZ (1997-2003), they've showcased lots of male frontal nudity, but never in a truly sensual, delicate or titillating way. In fact, male buttocks are nowhere near as showcased in the media as are female rear ends. Frankly, you're more likely to see a woman be sexually harassed or assaulted than a penis on cable.
And there hasn't been a show with as much male nudity as OZ since the end of the HBO drama The Deuce, which ended in 2019. Penises are not embraced in television, but that does not mean audiences wouldn't mind taking a peek at them every now and then. And HBO might just have an answer for the market: enter Ellen Rapoport's new comedy Minx. The show follows Joyce Prigger (Ophelia Lovibond), a flawed and down-on-her-luck, aspiring magazine editor who teams up with Doug (Jake Johnson), a shoddy publisher, who gives her the opportunity to create the first feminist nude magazine. Set against the background of the Women's Liberation Movement of the 1970s, Joyce must come to terms with her performative feminism when she finds out that Doug is the owner of many men's erotic magazine publications. In short, she must compromise her vision in order to create the magazine of her dreams, while Doug sees this as the perfect opportunity to finally invest in the untapped market that is women's erotica.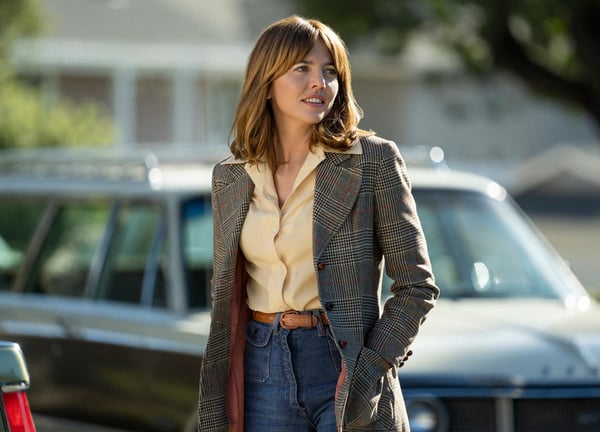 Ophelia Lovibond as Joyce Prigger in Minx.
Minx is equal parts revisionist history and folklore, and also just pure fun. It's carried by an impeccable ensemble of actors, most notably Lennon Parham (Veep, Lady Dynamite) who plays Shelly, Joyce's older sister; and Amy Landecker (Transparent), who plays Bridget, the city's new councilwoman whose conservative views make publishing the magazine a nightmare. And as expected, the chemistry between both leads is devastatingly good - special recognition given to Doug, who is played to perfection by Jake Johnson of New Girl fame. It also manages to deliver the goods; in the pilot alone, I counted 13 penises in all their glory. There is some female nudity, as Doug still has to run his other magazine publications, but all the magic (and budget) is invested in the male talent, or centerfolds as they're called.
The show is early in its run, as only four episodes have aired as of today, with two new episodes dropping every Thursday on HBOMax. Yet, it has already sparked nuanced conversations about feminism in sex workspaces, dildos and prosthetic penises, and the power women have when they're simply allowed to look. It is an exploration on desire and visual pleasures that seeks to take feminism out of the ivory tower of Judith Butler intellectual conversation and place it in the spaces of erotica. And as Joyce, a prominent second-wave feminist, learns in the first few episodes, the conversations regarding feminism are intersectional and more nuanced than she previously thought. Her collaboration with Doug is thrilling to watch, as they both teach and inform the other about things they previously had chosen to ignore.
Show-runner Ellen Rapoport has managed to create one of the more compelling comedies of the season, and I'd go so far as to say Minx is shaping up to be the comedy show of the Spring. There are high expectations, as the show moves to explore consent, American conservatism, and the female gaze. And not to mention male nudity quotas. Because audiences truly deserve it.
**Minx is currently streaming on HBOMax with new episodes every Thursday.