Minx (S1E5-6)
Internal and external dilemmas galore for Joyce and company.
TELEVISIONWOMAN-CENTEREDHBO MAXMALE-NUDITYAGUSTIN NOGUERA VILLEGAS
Last time we saw Joyce (Ophelia Lovibond) and company, most of the drama stemmed from our leads setting themselves up for jail-time, or at the very least a lawsuit; and it looks like the two episodes that premiered this week are going in full force with a similar theme. The former mention is in reference to Joyce beginning a sexual relationship with Shane (Taylor Zakhar Perez), one of the male centerfolds, and Doug (Jake Johnson) attempting to bribe the city's councilwoman and fixing his company's accounting books in order to move money from magazine to another. And as for this week, we have mob drama, censorship, and unsoliciting.
First things to address: the Shane controversy. Yes, it was completely unethical for Joyce to sleep with Shane, her employee - more accurately, the company's employee. There is of course a power dynamic between both of them, and although Shane does say he consented to the sex, and that he wanted to be a part of the magazine because he wanted to show his (enormous) penis to the world, it still feels like a moment and place that should be explored by the series. The show strives to spark conversations about gender equality and this could be thoroughly addressed and not be passed by as congruous with the time. Speaking of gender equality, I am joining the no-prosthetic penises movement. In episode 5 we are introduced to Dane (Nate Crnkovich), a new centerfold for the magazine, who also has a prosthetic penis (Perez also wears a prosthetic). It's not just that it is easily discernible and distracting, but it doesn't seem like the mission statement of the show. I have yet to see prosthetic breasts on this show, so I think it's fair to hire actors who can deliver, or just allow them to be in their natural birthday-suits.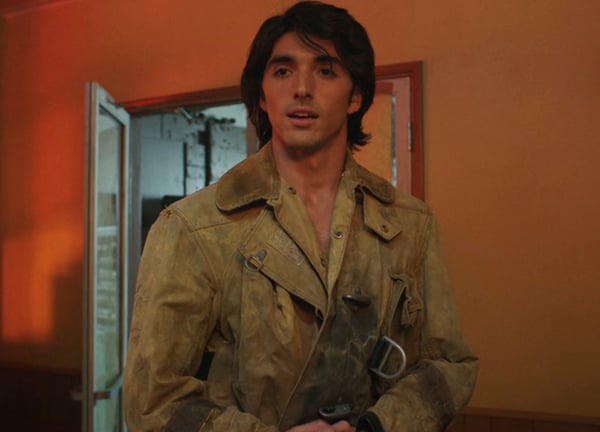 Taylor Zakhar Perez as Shane in Minx.
As aforementioned, in these episodes, our collective does get in trouble when it is revealed that the people in charge of distributing the Minx magazine to stores are affiliated with the mob. It is made worse when the mob leader's wife sees a contraceptive ad for the pill. In Catholic fashion, she demands that magazines be pulled until the pill ad is removed. This leads to both Doug and Joyce stopping by the mobsters' house to talk business, as well as discuss the importance of allowing women the choice to see and use contraceptives as they please. It sets up an interesting conversation regarding gender roles, as Joyce is tasked with talking to the women married to the mobsters about contraceptives, religion and domestic spaces, while Doug speaks with the men about business and sports. The interchange here is meaningful for Joyce as she learns that she is too conservative in her thinking, and that she, too, must learn from women that have chosen to become mothers and housewives and not work - and that her feminism should be more inclusive.
The second episode aired this week revolves around establishing a fanbase - which proves difficult when most stores hide Minx behind counters, rather than displaying it alongside other erotic magazines, causing a poor number of sales. In order to spread the word, the group decides to target a college audience, go into the suburbs and give local housewives a few free samples, and get established erotica writers to publish a piece in Minx. Things quickly turned awry when the younger generation of feminists clash views with Joyce and call her a sellout for compromising; both Shelly (Lennon Parham) and Bambi (Jessica Lowe) are jailed for soliciting and indecent exposure. For the most part, the show has established that Joyce has an internal struggle as much as an exterior one. Her beliefs have been challenged since the pilot, and it is appreciated to see the many varied instances where she is asked to see things from a different, and often othered perspective.
And I want more of that from the show: I want Joyce to continue to have these sorts of reckonings, but I want it also for Doug, who seems to be relish in having a narrative full of exterior conflicts - he talks about the sex revolution happening in his backyard, but I have yet to see how this is truly manifesting internally for him. And I also want to see Bambi's arc developed further - as she reminds me of a wiser and older version of Amiee of Sex Education; she is not an idiot and she's incredibly kind, perceptive and thoughtful, and honestly, Jessica Lowe delivers and begs for more screentime with her on-screen presence. And I also would like fewer prosthetic penises, otherwise, cover all the female actors! In short, can't wait to see what the next episodes hold in store.
**Minx is currently streaming on HBOMax with new episodes every Thursday.