Sundance 2022 - I Got Got
MINI REVIEW 4 /// Category 4: favs that i didn't see coming
SUNDANCEELLA THOMPSON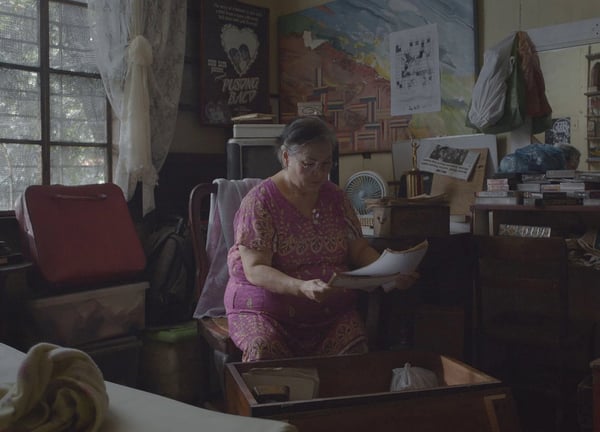 Sheila Francisco in "Leonor Will Never Die" (TBA)
Leonor Will Never Die /// Ang Pagbabalik ng Kwago (dir. Martika Ramirez Escobar, Philippines)
I've never seen anything quite like this - I loved it. It stars Sheila Francisco as fun-loving Leonor Reyes, a formerly popular action filmmaker who can no longer make ends meet. However, she remains a deeply creative spirit and starts working on an old screenplay after seeing an advertisement; unfortunately, she's quite literally hit on the head by a television and transported into her movie whilst in a coma. This film can often be nonsensical, and you can't always tell when or where you are - while Leonor is inside her movie, we get all the dramatic actions, camera angles, color grading, and sound effects of 80s cliché action drama which is contrasted with the real world search for Leonor. It gives her the chance to finish a final film and her son Rudie (Bong Cabrera) a chance to rekindle the tense relationship with his mother through her work - and it's bizarre in the best way possible.
Her screenplay is somewhat based on the passing of one of her sons Ronwaldo (Anthony Falcon as ghost Ronwaldo, Rocky Salumbides as action hero Ronwaldo) who was shot and killed, and while she's in the movie she has to help these main characters make it out alive. It becomes chaotic a lot of the time because sometimes she'll rewrite certain scenes over and over until she can get it right in a sort of groundhog day like scenario. There's even a point where everyone can see the movie on the hospital televisions and her surviving son, the eternally anxious Rudie, crawls into the screen to get to her. At one point we even break the fourth wall. I watched the interview with director Escobar and she said that they spent years on this project and it took new twists and turns and story developments all the time, but it doesn't feel disjointed when you watch it. A lot of passion for a very unique project.
We don't even quite know what happens to Leonor at the end of this movie and I won't spoil anymore as to why, but it's a movie full of nostalgia and you don't even have to know the things it's nostalgic for to understand the feeling. We got to really see this woman at the end of her life and of her career, and I think if this movie had been a traditional narrative experience we wouldn't have otherwise seen or felt what we were supposed to. It was also exciting to see an older woman as a main character and have it be something so fun, uplifting, and action packed - this is a front runner for favorite movie ever for me, 10 out of 10. Yeah I got got.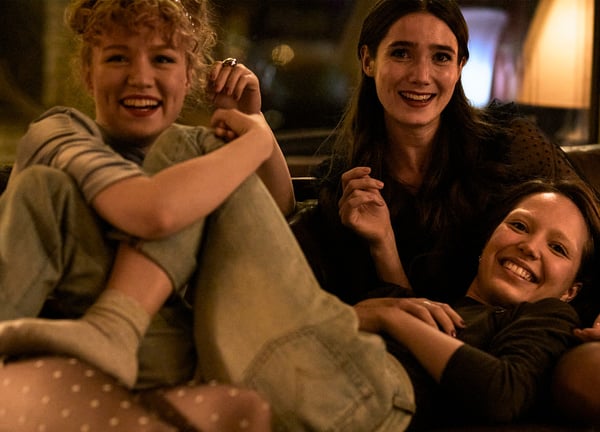 Eleonoora Kauhanen, Linnea Leino and Aamu Milonoff in "Girl Picture" (TBA)
Girl Picture /// Tytöt tytöt tytöt (dir. Alli Haapasalo, Finland)
These were the cutest gays I've ever seen. Shoutout asexuality. Two high school best friends that work at a smoothie counter - Mimmi (Aamu Milonoff) and Rönkkö (Eleonoora Kauhanen) - are both struggling in love and sex in this very refreshing teen girl movie. Mimmi suddenly enters into an exciting relationship with Emma (Linnea Leino), a highly competitive figure-skater, while Rönkkö, who has never found any sexual encounter as satisfactory as Mimmi describes it, decides to attempt several sexual encounters during the school year. Never at any point is this film attempting to make fun of these girls or over-dramatize their experiences; it seems very genuine and exactly what any film with WLW content has been missing. A must watch for fam.
For Emma, it not only seems like her first relationship with a girl but it also comes at a time where she's unsatisfied and being pushed to the brink in her skating career as she's approaching a championship. Mimmi, on the other hand, is living apart from her mother's new family and has a history of acting out because of her unbalanced personal life. At one point Emma claims she's going to quit skating and just hang out with Mimmi, but Mimmi feels that she's being used - Emma has never acted out in her life, and now Mimmi is the reason she'll quit something she loves? Disaster gays. As for Rönkkö, her story is dud after dud of sexual failure and she can't crack the code. At one point she finally goes on a date with a sweet guy who's interested in her, but when things get heated that night the literal unthinkable happens. I can't tell you what that unthinkable is. I really can't. It's a see it to believe it kind of moment. I have nothing I can think of to critique this film on, it's a new fav.
I really, really loved this movie. Mimmi is a girl with a tough exterior but a soft heart, which perfectly matches her best friend Rönkkö who seems ditzy but mainly lacking confidence and self-assurance. Emma is being pushed to the brink with pressure and doesn't feel like she's really having the opportunity to just be a kid. The relationship between Emma and Mimmi is the cutest thing I've seen on screen for a while - everyone has great chemistry and it's well written. More queer cinema like this please!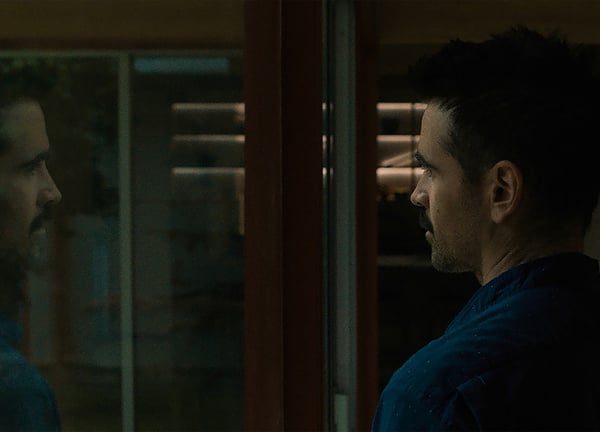 Colin Farrell in "After Yang" (Hulu)
After Yang (dir. Kogonada, United States)
No story about the numbness of loss has ever hit me so hard. I can't recommend it enough. I didn't know much going into this (I often go into movies blind), just that it was highly anticipated at the festival. After Yang is set in a future dystopian setting, which isn't excessively explained - the creator rather having you just exist in it. It's a very clean, desolate feeling world - it's the thorough and melancholy journey of Jake (Colin Farrell), married to Kyra (Jodie Turner-Smith), learning about his young adopted daughter Mika (Malea Emma Mjandrawidjaja) through the remaining memories of Yang (Justin H. Min), an AI robot purchased by the family so that Mika could connect to her Chinese roots. Yang looks just like a person, and throughout the film Jake learns that he essentially was one before he shorted out.
This film opens with a very striking and cute family dance competition, a regular virtual occurrence for the family (including Yang) - they killed that choreo. It's easy to see how close Mika is with Yang and immediately queues us in on the futuristic elements of the film. Suddenly, however, Yang goes to bed and doesn't wake up. Mika has to grieve Yang, her best friend, and Jake has to grieve the time he hasn't ever with his daughter through Yang's eyes as well as the long life he discovers Yang has lived. Initially urged by Kyra, Jake makes a big effort to bring Yang back to life. It's more complicated than he expects, however, because the tech company that makes these family robots doesn't allow tampering (lol hello Apple). Jake goes underground and is given Yang's harddrive, which we spend most of the film looking through.
The complexity of grief is something no one really knows how to deal with, and Jake gets a special opportunity to go in and see what was lost. Usually memories go when you do, but Jake gets to see the other side, gaining a different appreciation for life than he's ever possessed. Yang has loved and lost many, many times more than Jake or Mika, but there's no quantifying or understanding any level of loss. This is an incredibly unique premise and execution of something purely emotional, but it's done extremely well. Yang has put distance between Jake and Mika in some ways, but in his absence he's brought them much closer together. The poignant ending shot especially captures that: what can you do when you grieve except sit and watch the world go by? I can't recommend this movie enough.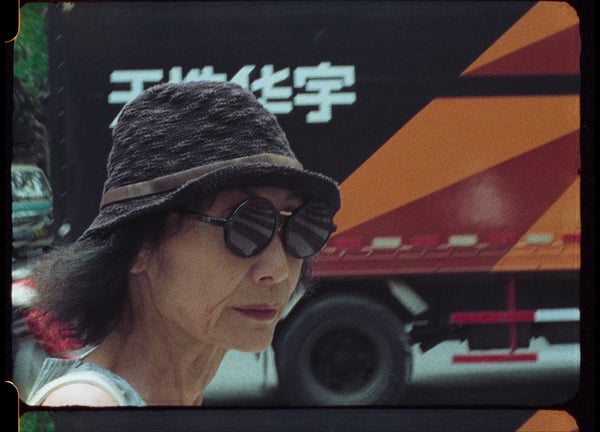 Christine Choy in "The Exiles" (TBA)
The Exiles (dir. Violet Columbus and Ben Klein, United States)
I went into this blind, impulsively buying a ticket after seeing Jusu's reaction to winning the Grand Jury Prize (I wasn't disappointed). My mouth dropped open so many times while watching this film, particularly in its perfectly balanced third act. The basics of this story is that Aisha (Anna Diop) is an immigrant nanny in NYC caring for a wealthy family's child while trying to earn enough to bring her young son over from Senegal in time for his birthday. I really don't want to spoil much from this - it's a frightening immigrant experience that's at its best when you let it wash over you. Her experience as a nanny is difficult, frustrating, and scary to watch. There were portions of the first and second act that dragged for me, but once we got into the thick of the action I was completely captivated and shocked.
Aisha begins to have visions and nightmares of spiders crawling all over her and inside her; there's even portions where she attacks with a knife and almost kills the kid she's caring for as she can't tell her haunted hallucinations from reality (or why they're happening). She's also able to form a happy relationship with a man, the descendant of an elderly psychic woman who tries to help her sort out her visions. I don't know much about Senegalese folklore, but I don't think it's a requirement to be taken by this film - on concept and third act alone it deserved this award - and the ending left me reeling.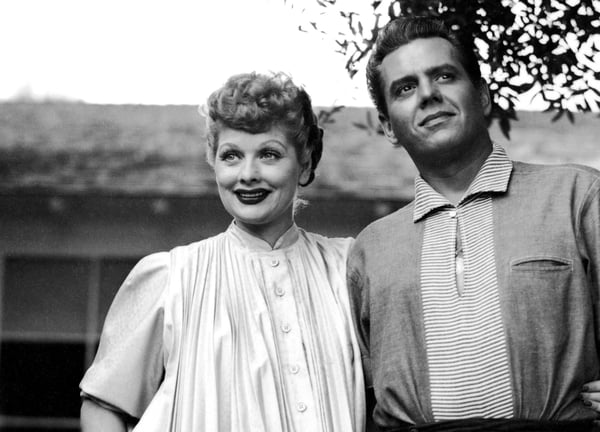 "Lucy and Desi" (Amazon Prime)
Lucy and Desi (dir. Amy Poehler, United States)
Give Amy Poehler anything and you won't be disappointed. I've always been a fan of Lucy and Desi since I've watched reruns of I Love Lucy, The Carol Burnett Show, and older comedy sketch type shows from when I was little. However, I honestly didn't know much background information on their personal lives and how they built their careers. The way this documentary went about presenting it kept me hooked until the end; it was a great casual watch that left me satisfied.
I also felt satisfied by the level of involvement of Lucy and Desi's children and their friends - it felt very personal, and as Poehler has become an extremely influential comedian herself, I think she had a good perspective to attack this story from. One of my favorite parts was a long emphasis on how, despite their divorce, Lucy and Desi remained close friends and, in a very moving scene, their daughter describes their final conversation before Desi passed. Definitely a great watch for any fan or anyone interested in seeing the creation of an incredibly impressive empire that continues to shape our media today.